This episode was absolutely littered with fantastic and hilarious quotes. Well, maybe not littered, but there were a few...
The episode started off showing the wonderful Jen aka. 'Dr Exceptionally Competent' at her finest: First administering IV Morphine to a patient with an inflamed pancreas and after this, making her way down to A&E to pop a Nasogastric Tube in for another patient. This, however, was something that she didn't manage first time, I'm sure it's an easy mistake to make; but seeing how much distress the patient was in, Jen evidently beat herself up about it afterwards.
Picture courtesy of BBC Three
Then the programme focussed on Emily ('Dr. Massive Hairclip') who was wandering around showing her massive hairclip to all of the world (or part of Liverpool, anyway...) She was on her very first night shift; and was particularly peeved that she was working at the same time that Tom had organised a massive Junior Doctor Do. Her shift was unbelievably quiet; which must have annoyed the camera crew and editors... And she was left to sleep in the Doctors' Mess room enveloped in a blanket whilst her housemates were partying the night away. She did have to do a PR though, which I'm sure the BBC team loved... (Fantastic quote No. 1:

"The X-Ray shows absolutely loads of poo."

)
Tom, however, did a good job on his day shift of spotting that the patient he was chatting to/clerking was probably having a heart attack. Cue lots of staff crowding round this poor clammy man's bed whilst Tom tried to pop a cannula in. Unfortunately for him (and the patient) this hasn't been Tom's strong point so far. He managed it on the second attempt; much to the relief of everyone there

(and me, at home with my hands covering my eyes...)
It's almost as though they're trying to shoehorn one of the doctors into the 'bad at cannulating' stereotype; like Andy in last year's series.
No Spongebob action this week which is disappointing, but I'm sure I'll get over it.
Another fantastic, if not slightly crude, quote was when the other doctors were speculating as to whether Emily was going out for a date. She vehemently denied this; but that didn't stop the others grilling her:
Jen -"Is he going to cook you a nice vegetarian meal?"
Tom - "Or is it going to be a meat feast?"
Poor Emily also got branded an "old tanker" by Tom for her drinking habits...
Ed's now an F1! Poor Ed. At the end of last week's episode he had to go back home to Italy to visit his ill Father; and this week he was back, with the awful news that his Father died before he got there. Very sad. He's now based on what appears to be MAU instead of A&E; and still seems a little bit unsure of himself, but it's clear that his confidence is gradually growing.
Tristan, however, hardly popped up; except to talk about how to deal with dying patients. He also managed to pop up whenever there appeared to be partying.
Oli was back this week as well. No topless scenes though...We didn't even get to see his array of unusual shirts this week either. I'm slightly disappointed. We did, however, get to follow him on his night shift, where he uttered one of the best phrases I've heard recently (mainly because I don't get out very much...) Which was:

"You see an empty bed and think

'I could sleep the s**t out of you'"

. Just amazing.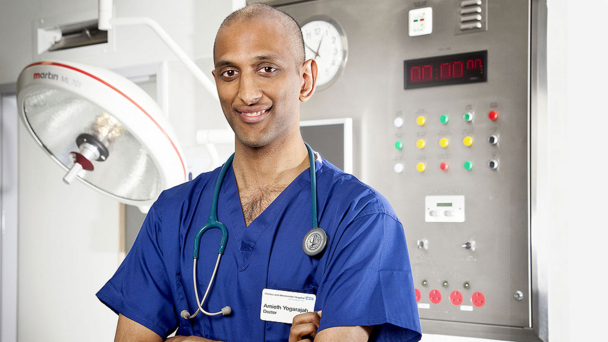 Amieth
Of course, this week also featured the exciting obligatory payday celebrations. An important milestone in the Junior Doctors series; which normally leads to various images of the doctors inebriated and dancing badly and also shopping, or talking about shopping. (As an aside, my personal favourite 'payday bit' was Amieth's shopping trip for vegetables in series two...)
I mentioned in my post about the first episode that I reckoned that Kiera would be the one who 'would fade into the background as a victim of editing' and I was right. I did not see her once during this episode!
Next week: It's all about alcohol and the effect it has on the residents of Liverpool.